As read on Focus Ubin on 2 May 2005, there has been signs that the process of demolishing the old Changi Jetty has already begun!
Photo of Changi Jetty on 2 May 2005 by Ria Tan
First the roof, next the whole jetty will be gone before you know it. Go and catch a glimpse of the old jetty that served as a gathering point and launching point for many memorable trips to Ubin for decades. [Editor's note: Does anyone know how long it has been there? There have been photographic records courtesy of
FairyPoint
dating all the way back to the 1930s and before!]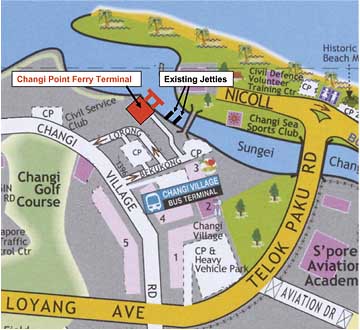 According to a
Straits Times article
dated 31 Dec 2004, the old jetties will be demolished and dredging will be carried out 'so that the unsightly seabed will not be exposed during low tide'.
Changi Jetty in the 1930s. Photo courtesy of
FairyPoint
.
I am sure that many like myself has always felt that the old jetties looked dirty and unsafe and thus prompted the construction of a new jetty that has "sheltered gangways and pontoons for safer embarkation and disembarkation" (
MPA News Release, Dec 2004
). However, I will really miss the grand old tree providing shade on all those hot sunny afternoons and the quaint little petrol kiosk for boats with a shop sign that has withstand decades of salt spray. Sometimes you might even find kampung chicken running around near the jetty! One time I was there I even saw some of the bumboat operators spraying down a boat from shore and it wasn't a sight I would expect to see from the new clean and sanitized ferry terminal.
This often makes one wonder, how do we balance history, cultural flavour and heritage between modernization and safety?
----
Source:
Focus Ubin,
"Changes at Changi Jetty, departure point for Pulau Ubin, Singapore"